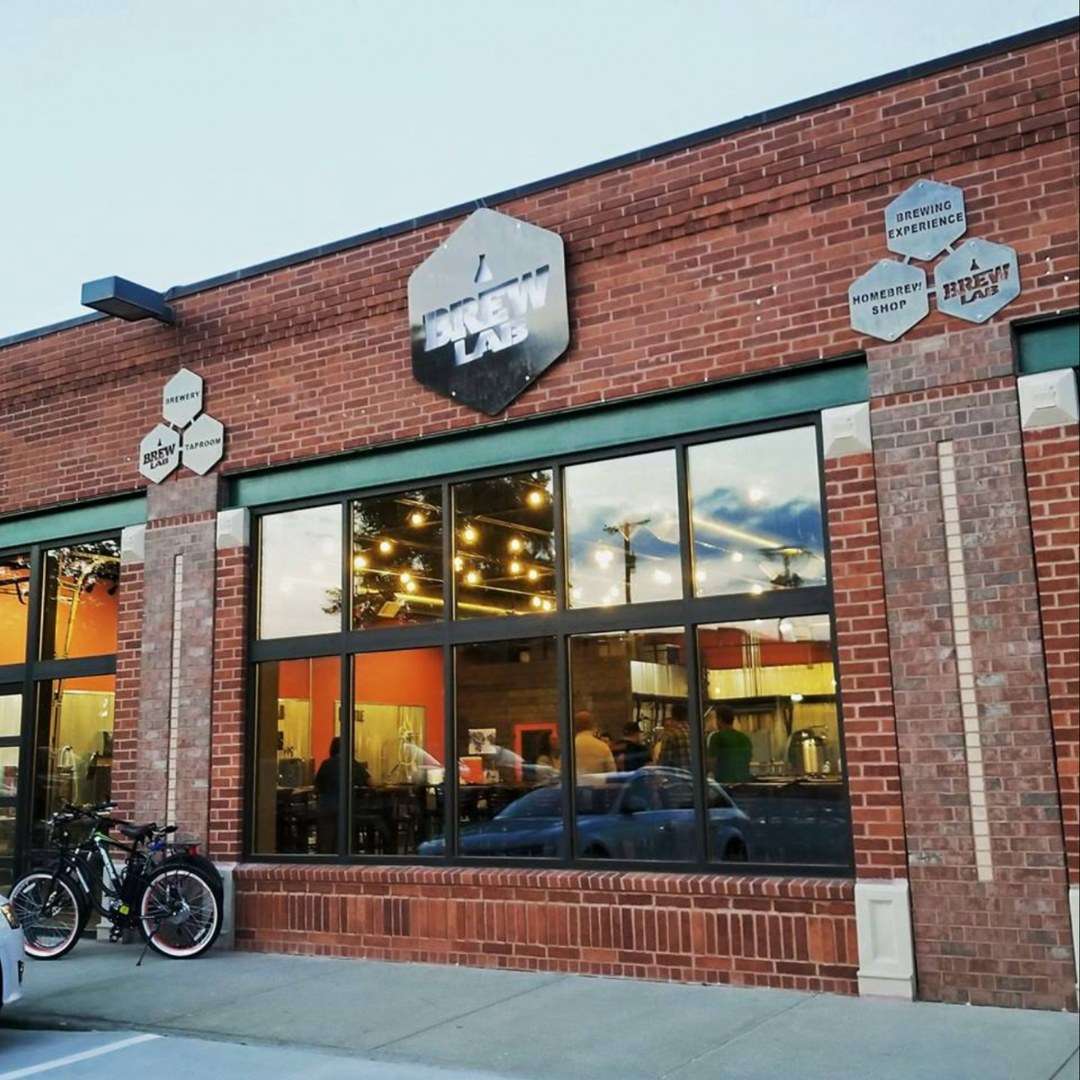 Not Your Ordinary Brew Grill!
Brew Lab is Overland Park's Original Brew Grill - And So Much More!
A Small But Mighty Micro Brewery
Brew Lab is Overland Park's first brewery and is unique among others found in the area. The brewing system is by no means the largest around. Rather than taking the model of developing beer to be sold to the masses, it specializes in brewing unique and delightful beer with an ever-changing offering. This allows for focus on high quality beers. Some of which can be found only in the taproom and select-partner bar and grills. The system is small but the Brew Master works diligently to keep kegs full and flowing at Brew Lab.
Newly Added Fermentation Capacity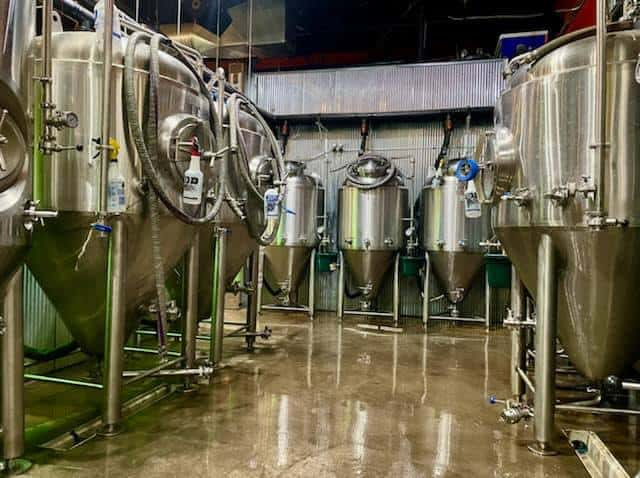 While flagships like Science 101 Cream Ale, Mitigating Disaster Farmhouse Saison, and Humulus Stratus Hazy IPA can typically be found on tap all year long, you can almost bet that if your visit is even only a few weeks apart, you will find something new and exciting on one of the eighteen tap handles. Brew Lab is continuously experimenting and developing new and unique flavors to suite just about any palate - hence the name Brew Lab.
Can't decide on just one beer? Try a flight of six different offerings in a handcrafted beaker-shaped flight tray. Take notes as you sample them and if you find one you really like you can take it home freshly packaged in either a 32 oz. aluminum crowler or glass growler.
Take Flight With Six Different Samples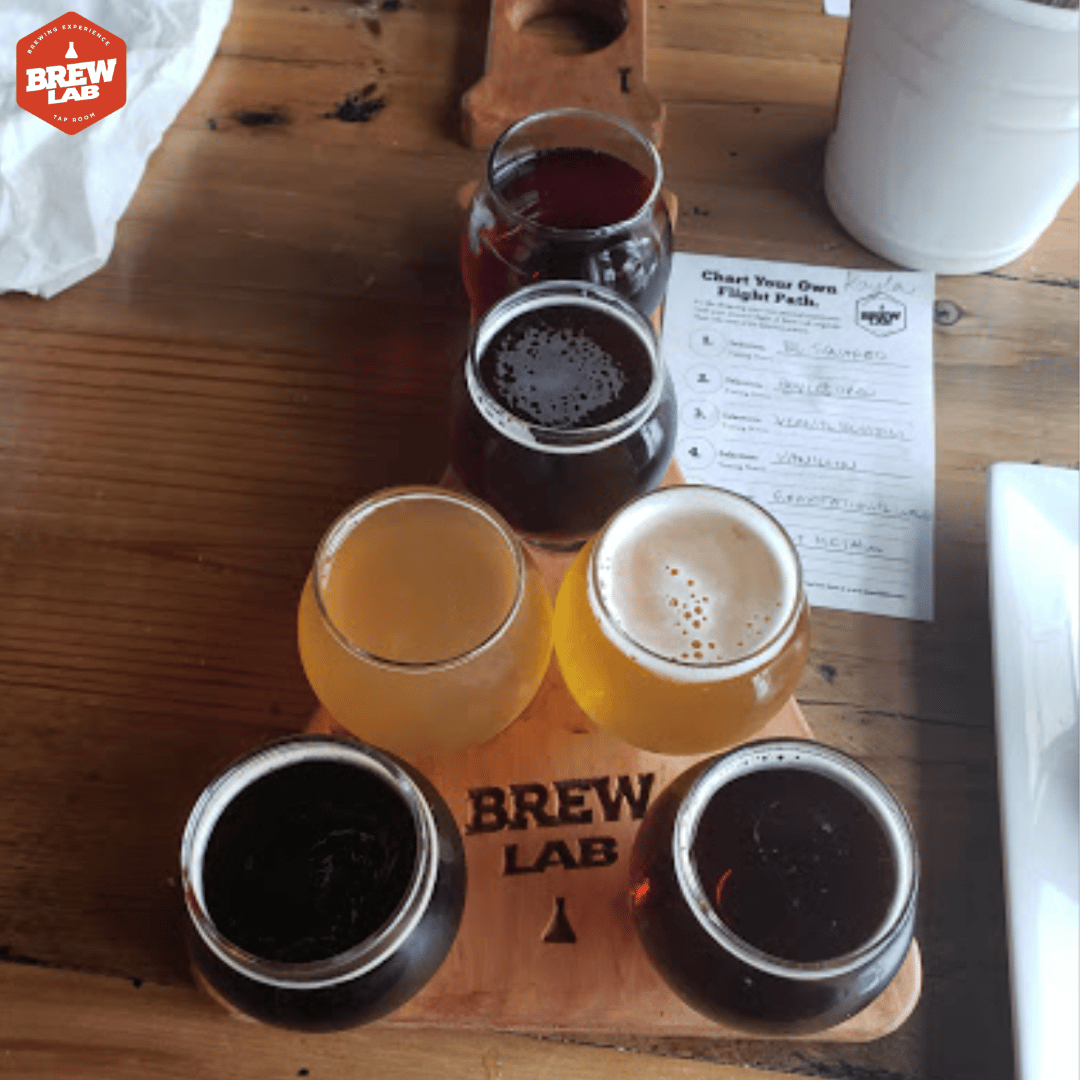 Full Scale Kitchen & Grill
Brew Lab is one of the only breweries in the area with a full scale kitchen. The menu is not a short list of appetizers and finger food either. Complete with burgers, salads, sandwiches, and entrees, the kitchen at Brew Lab also provides some of the most sought after appetizers for craft beer drinkers - namely pretzel bites served with warm queso and homemade beer mustard. Customers rave about them. While many breweries are closed on Monday and may not open until the afternoon Brew Lab is open 7 days a week. Brew Lab offers a full lunch menu daily with affordable lunch specials Monday thru Friday. Every day the kitchen offers different food specials and happy hour every day from 3:30 to 6pm and all day happy hour EVERY Sunday.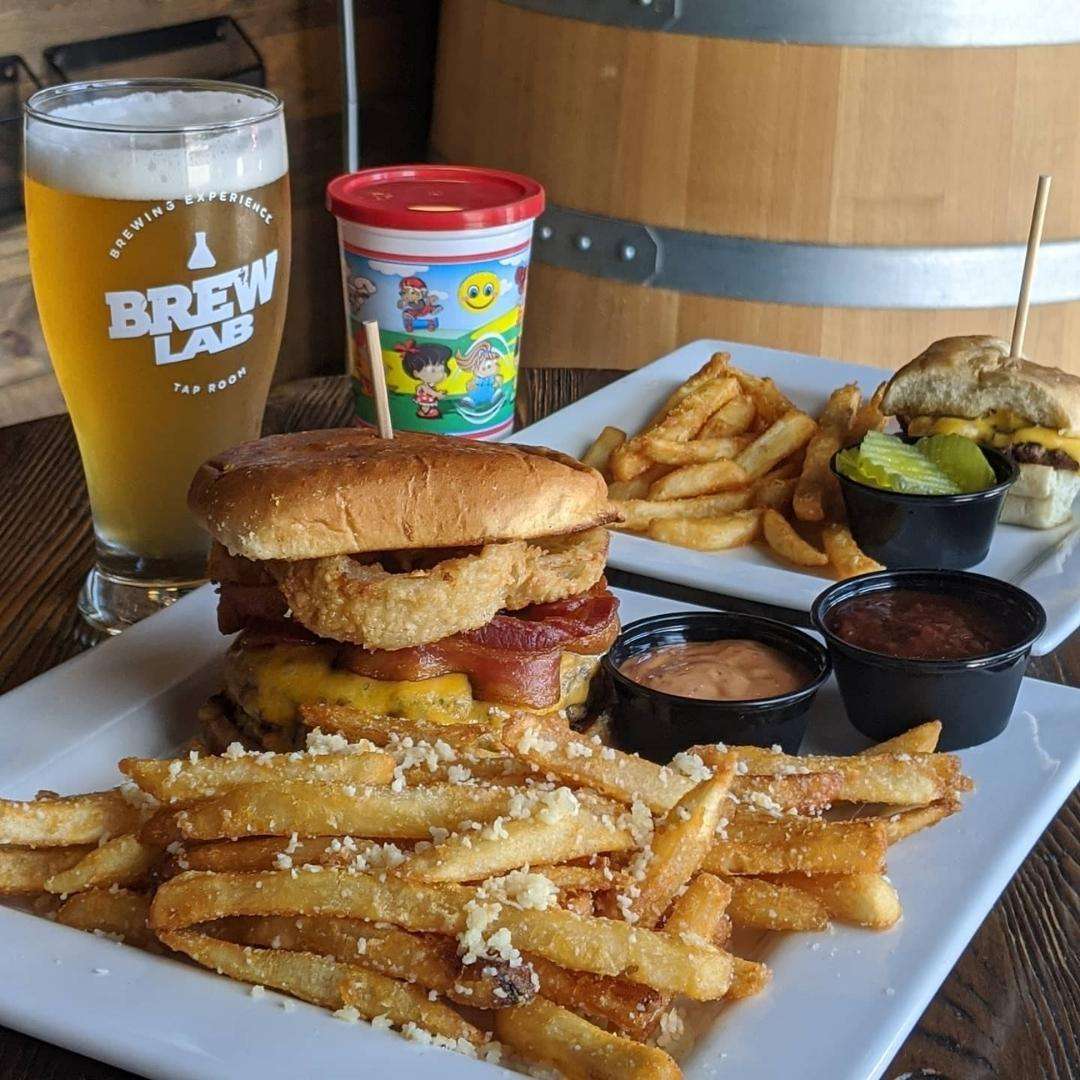 Full Adult and Kid's Menu
Full Bar
While many area breweries offer only their beer for sale, Brew Lab realizes that everyone who visits may not be a craft beer person. This is why the bar offers a full line of craft beverages, well drinks, seltzers, wine, mojitos, and even popular domestic beers, (though you won't see domestics on the menu so make sure to ask your server).
Brew Lab Offers More Than Just Craft Beer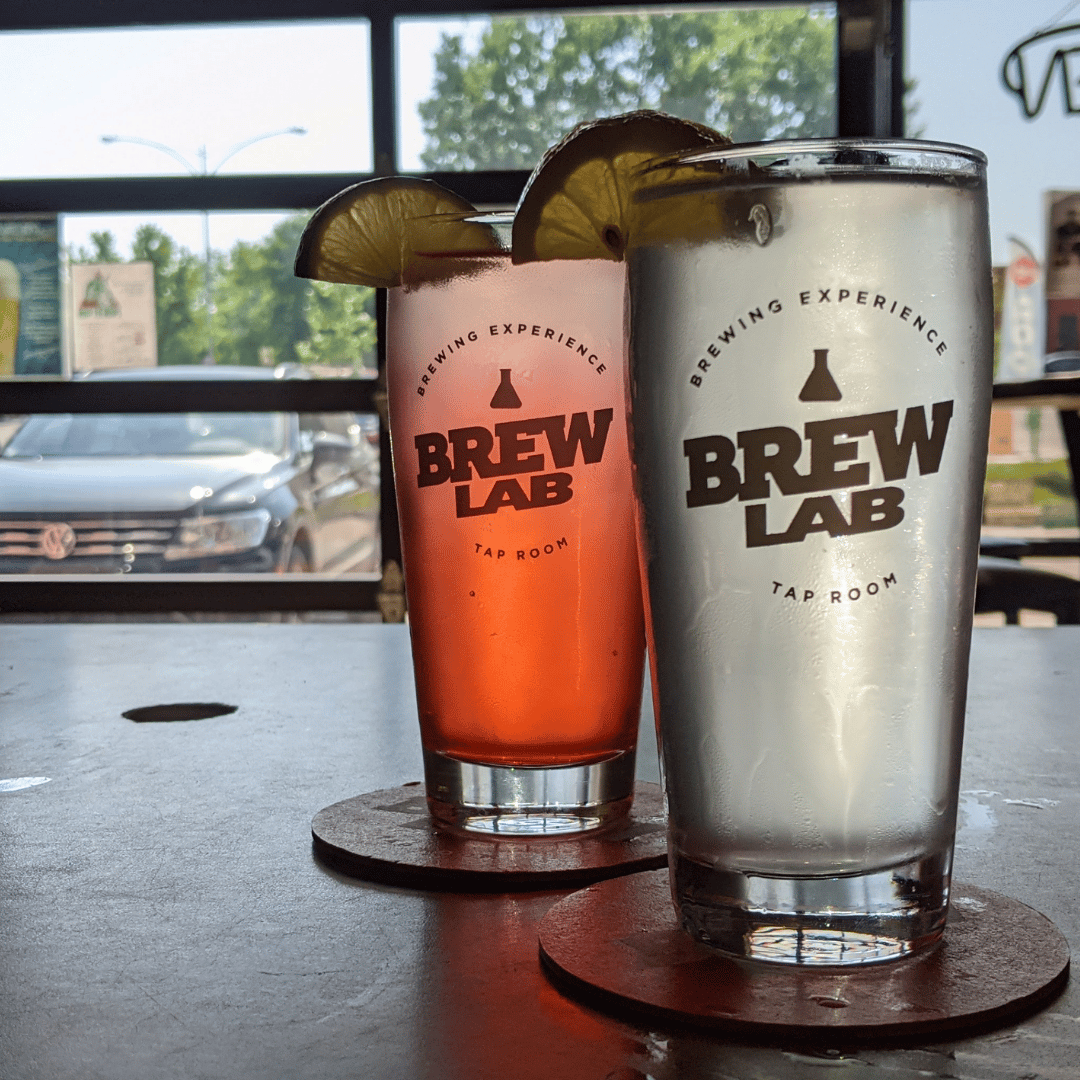 Outdoor Seating
Brew Lab offers outdoor seating with full food and drink service. On nice days you can choose to sit on Brew Lab's beautiful patio which is covered by a trellis featuring several varieties of hops encircling the patio. By late spring the hops will have begun their climb up the patio and by late summer they have nearly covered the trellis providing additional shade and an incredible atmosphere. The patio is pet friendly and ADA accessible. If it is a little warm you can easily switch on the ceiling fan and drop the shades. If it is a little chilly you can warm up with the whisky barrel propane firepit. Brew Lab's patio is fully lighted with outdoor speakers playing for enjoyment late into the evening.
Brew Lab's Beautiful Outdoor Patio
Indoor Seating
If you aren't the patio type but still love fresh air, on nice days you can rest assured the spacious taproom will be open to the outdoors with the two large garage doors. One of which leads to the patio, the other sits next to the front door allowing easy traffic flow in and out. The spacious taproom can accommodate approximately 180 people comfortably. The modern industrial motif of the taproom is comfortable and inviting. Tables are constructed with hardwood tops with welded steel legs and casters allowing for multiple seating options for groups of all sizes. Tables can be configured in just about any manner allowing for parties and events. They have been known to be completely moved to allow room for dancing and congregation.
Spacious Taproom with Configurable Tables
Sports Brewery?
Brew Lab isn't your average, cramped, stodgy brewery. The spacious taproom has several big screen televisions, a bank of large screens hanging in the center of the room, and a huge projector screen on the wall. This allows a clear view of a big screen from any table in the taproom so you can sip drinks, snack on food, and enjoy the Kansas City Chiefs, Royals, Sporting KC, KC Current, Kansas State, KU or MU games as they happen (or whatever other team out there that may exist). No need to go to a run-of-the-mill sports bar to enjoy the game. You can keep it all right here!

Large Screen Views from Any Angle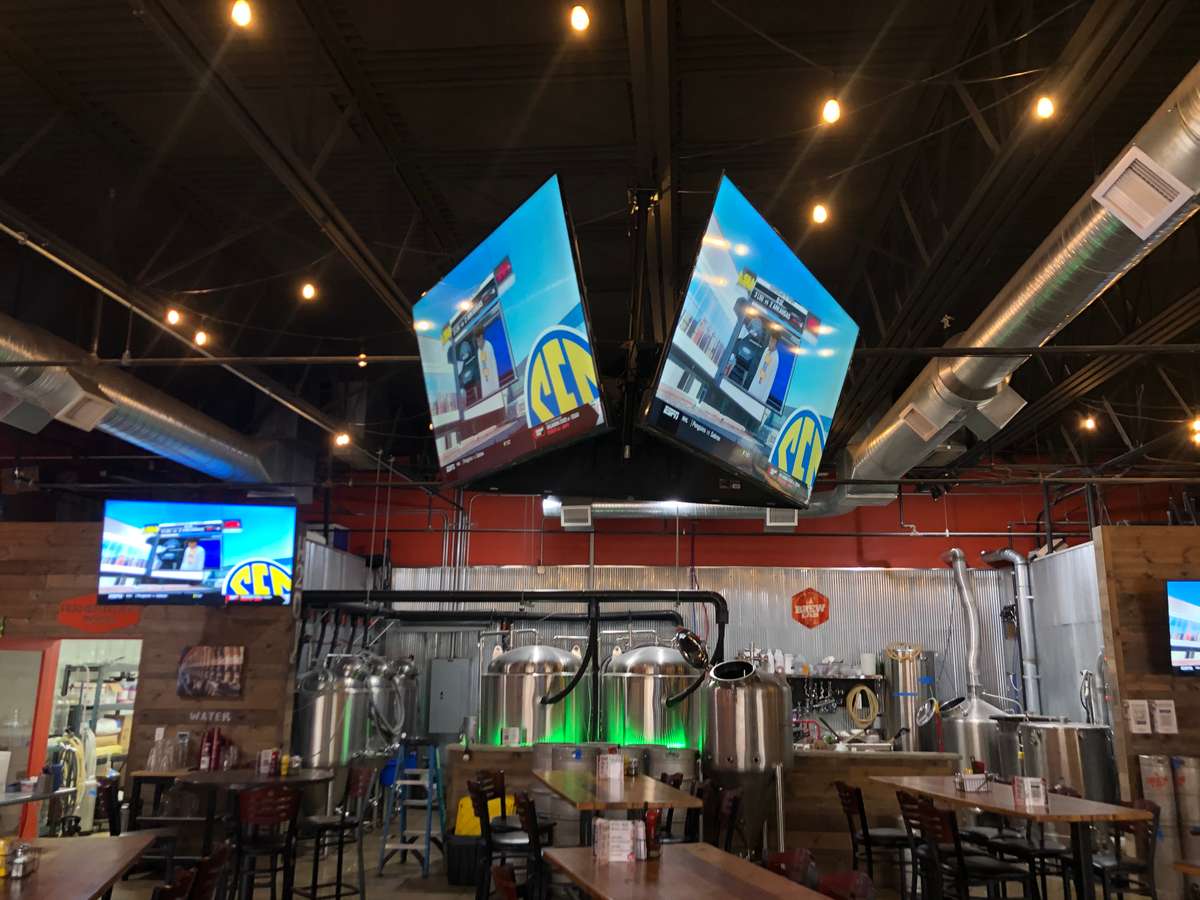 Live Music & Entertainment
Every Friday Brew Lab hosts a local or regional musical sensations for the enjoyment of guests. Different genres of music can regularly be found every weekend. Musicians are screened by Brew Lab's very own talented musician. So, rest assured, you will experience some of the best local music talent around.
Tacos &Trivia Tuesdays are a hit with an evening of entertaining trivia that spans the world of knowledge. If you are a vast wealth of "worthless" information, Tuesdays at Brew Lab are for you.
Thursdays Brew Lab hosts DJ Karaoke with music and entertainment from amateur singers who may just be America's next talent hit. Make sure to stop in for your chance at stardom!
Brew Lab's staff and owners are funny people and love comedy. The stage periodically features nationally known comedians such as Zane Lamprey and Jeff Leeson in ticketed events.
CLICK HERE TO SEE UPCOMING EVENTS
Talent Will Travel Far and Wide to Perform at Brew Lab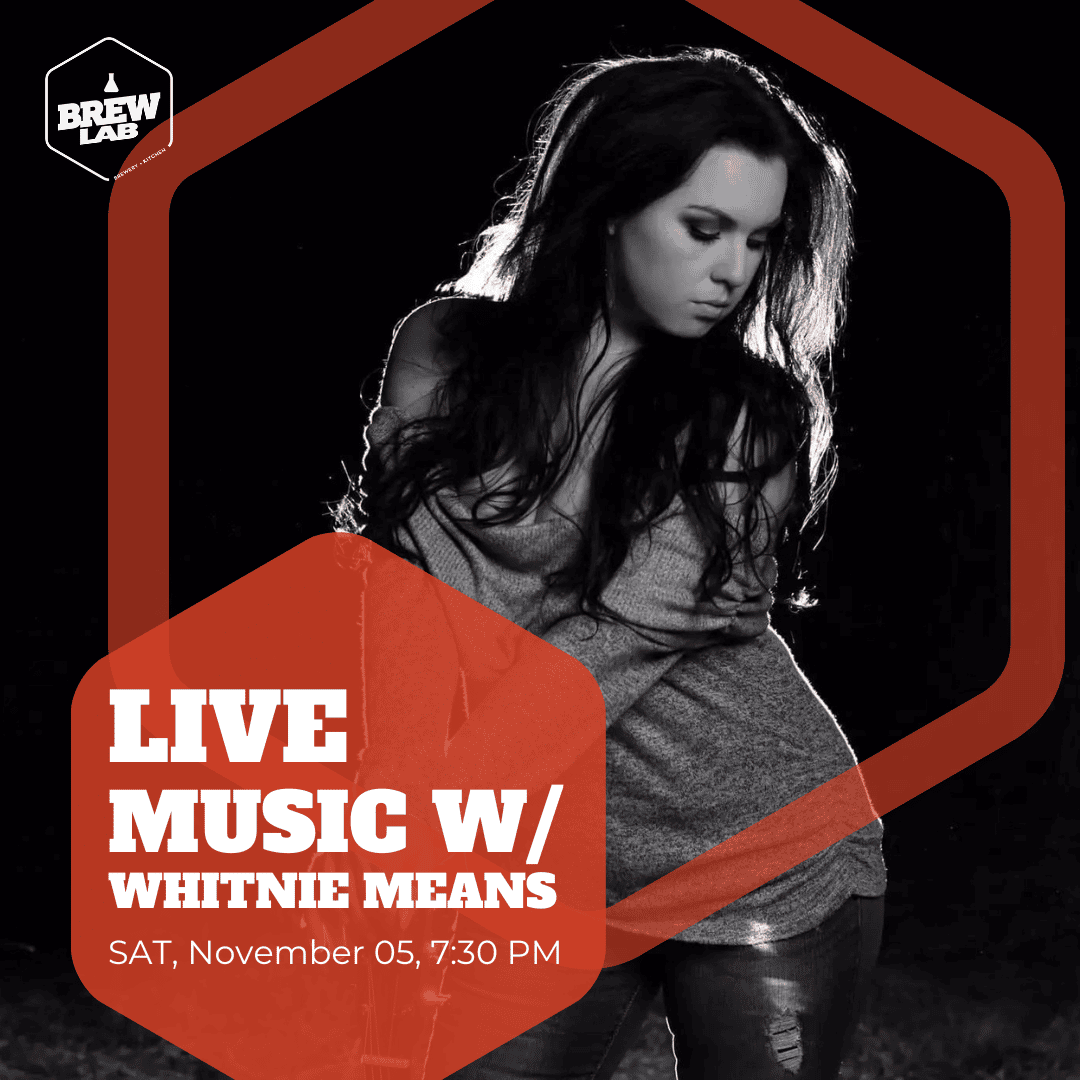 Private and Special Events*
Brew Lab has enough room for just about any size of gathering. Corporate events, wedding receptions, holiday parties, and even small get togethers are welcome. There is a stage complete with audio visual equipment and a large projector screen for presentations or entertainment. Buffet style catering can be arranged or your group can order from our menu.
Tap Room Rental
Brew Lab offers the ability for groups up to 180 people as a private event in the taproom. This option allows you to have the entire facility to yourself. If you don't require privacy, and only want to reserve a portion of the taproom for your group, that is an option as well.
Grain Room Rental
Smaller groups up to 30 +/- can be situated in the Grain Room comfortably. The Grain Room is a private room that provides a view of grains and brewing ingredients. The room has a separate big screen television and audio visual capabilities. It is often home to smaller groups and educational events or pop ups.
Every holiday season from Thanksgiving to New Years, Brew Lab features its Hoppy Holiday Pop Up Room in the Grain Room. This festive atmosphere will put the holiday spirit in anyone. The Hoppy Holiday Pop Up Room can be reserved at a seat, table, or room level.
The Grain Room Perfect for Smaller Private Events
*Minimum spend rates or room rental may apply and gratuity is automatically calculated for groups over eight.
Community Involvement
Community involvement is important to Brew Lab's owners and employees. We understand the financial hardships many of the organizations we help face. When the staff and ownership of Brew Lab are not in the facility cranking out great food, beer, cocktails and entertaining guests, they are hard at it getting involved within the community. Every year the company donates thousands of dollars to help local non-profits, it believes in, to further their goals. This is often done through gift cards that can be offered for silent auctions or the use of their space for fundraisers. Many of the fundraising events in which Brew Lab participates involve getting out in the community to pour samples of their beer along with other vendors. This in turn helps draw in thousands of people and dollars to help fund the causes.
Dishing Out Food and Beer at The Arboretum For the STEMS Fundraiser in 2021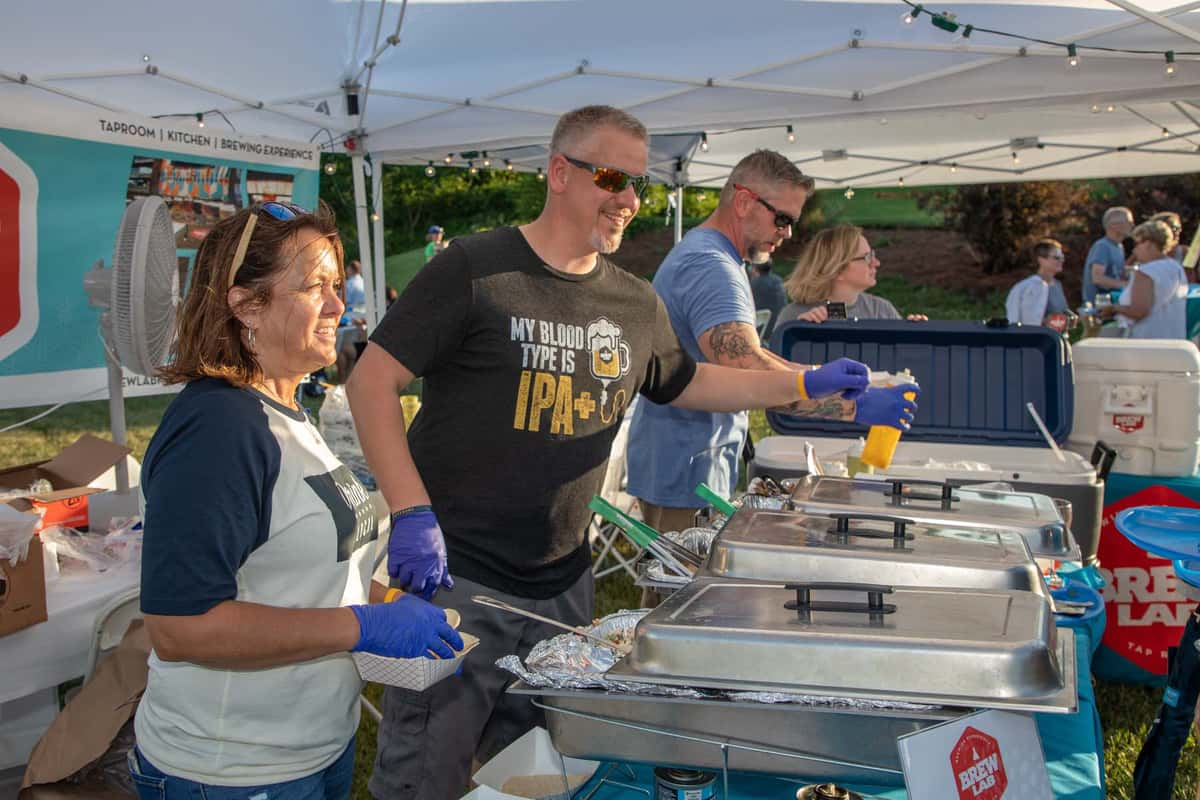 Some of the groups Brew Lab has assisted with fundraisers include (but are certainly not limited to):
Overland Park Historical Society
Overland Park Arboretum & Botanical Gardens
Big Brothers & Big Sisters of Kansas City
Children's Stroke Foundation of The Midwest
Friends of Infant Toddler Services of Johnson County
Cur of Ars Catholic School of Leawood
Bethany Lutheran School in Overland Park
Kansas City Autism Training Center
Children's Miracle Network Via KU Medical Center
Head For The Cure - Defeating Brain Cancer Step By Step
Hope House of Kansas City - Domestic Abuse
Pints For A Purpose - Alzheimer's Awareness
S.A.F.E. (Surviving Spouse & Family Endowment Fund for First Responders killed in the line of Duty)
The Leukemia & Lymphoma Society – Lower Plains Region
ScrapsKC - Reuse, Repurpose, Renew
The list goes on and we can't do it alone. Please take a moment to visit these websites and consider clicking on the link above and either providing a donation or attending one of their donation events. Together we can help make the world a better place (or at least our local community)!